Jaume Amengual is a skipper and fishing teacher. He is a seventh-generation fisher. At the age of 9, he started working at sea with his father, fishing for red mullet in Cabrera. He studied to become a skipper and, in 1984, he embarked as a sailor on the family lute.
Jaume, tell us more about your career.
When I was 21, I bought my own fishing boat and worked on it until I was 30. Then I decided to give up fishing to run a passenger boat and went back to school to study to become a coastal skipper. Three years later, I started teaching fishing and marine biology at the nautical school in Palma. From there, my career as a trainer began: a few years at the Jovent Cooperative teaching boat maintenance,nternational Convention on Standards of Training, Certification and Watchkeeping for Seafarers(STCW) courses in different schools, sailing instruction classes, and knot and net workshops. I also give courses to the fishing sector.
What are the challenges facing professional fishing in the Balearic Islands and how do you see its future?
Two aspects cannot be ignored: one is to fish more responsibly, respecting the fisheries, and taking into account the studies coming from the scientific community; the other is to look for alternatives for selling the catches, especially from the artisanal fleet, since it is a product extracted with ancestral fishing techniques that respect the environment.
There is the possibility of applying to sell fish directly, without intermediaries or wholesalers: the buyer can go to the boat and take the fish home immediately and not have to wait for it to arrive at the fish market, then go to the market, and finally get it home.
We need to think about the fisheries issue. We are running out of fish, and this worries me. Fishing in the Balearic Islands has fed the population for centuries. Fish from here. Local fish.
What is your experience working with fishers?
It is an experience I have almost daily. I teach them STCW courses, and seafarer-fisher and online courses to prepare them for the local fishing skipper and multipurpose coastal skipper exams. I am very close to them. I go on board with them to teach them how to fish with different gear, like jonquillera and trammel net.
Sometimes they come from other sectors not from fishing families. This is noticeable because to be a fisher you have to have it in your blood and know the weak points of this profession.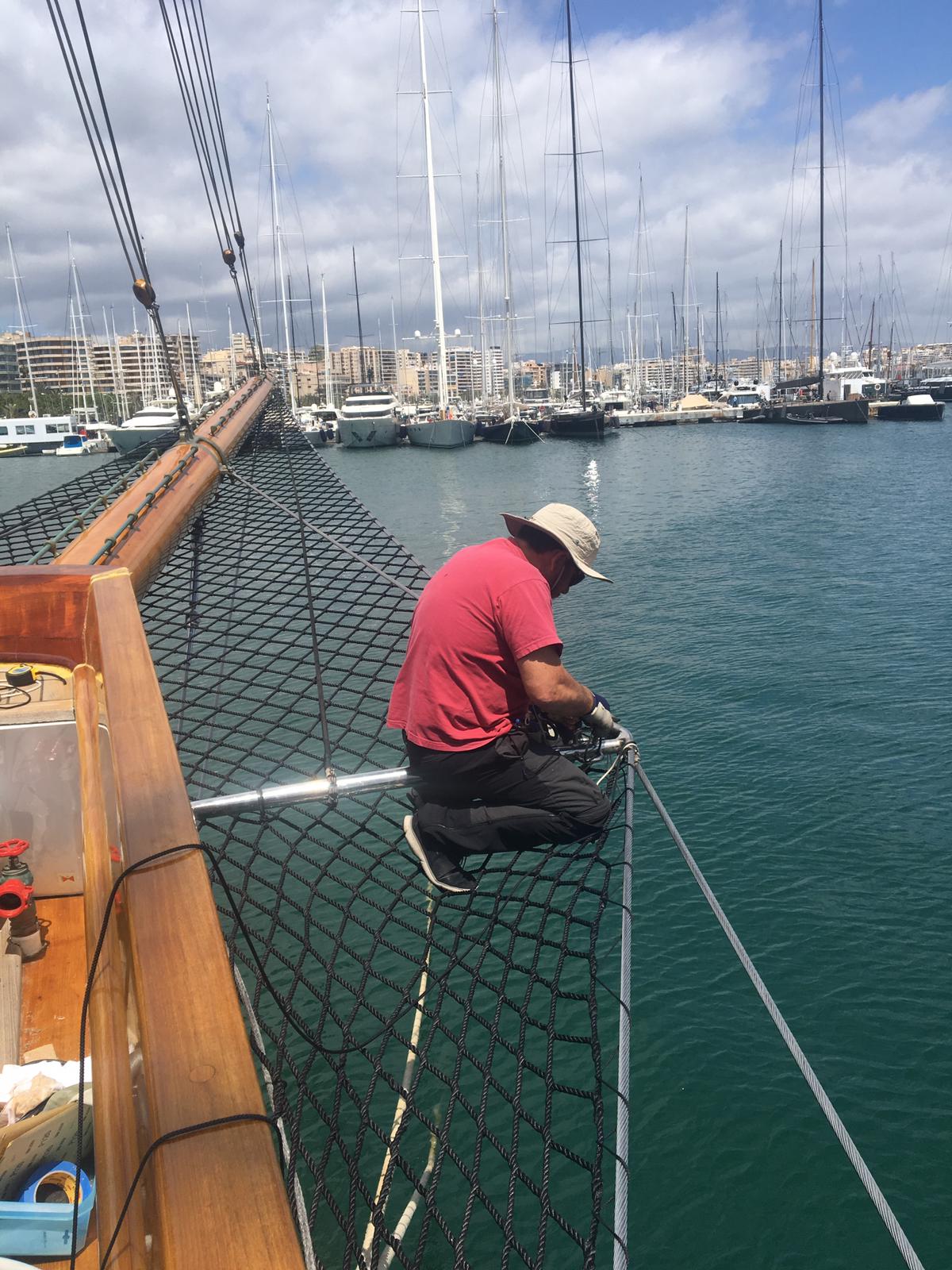 What does lateen sailing mean to a sailor like you?
I learned to sail lateen with my father. We took the sail and the equipment on board and when the wind blew, we took advantage of it to save fuel. I'm sure that with the price of fuel nowadays, we would sail more today. Lateen sailing is a passion I have; it's about the preservation of maritime heritage, both tangible and intangible.
Lateen sailing is now an asset of intangible cultural interest. What does this mean?
It is the best way to ensure the conservation of this way of sailing and of the related trades – marine carpenters, caulkers, sailors - and of the vocabulary of the parts of the boat and the manoeuvres used - orçapop, troça, dogal - among others. (These don't translate well into English!)
I am very involved in lateen sailing. I teach courses so that this way of sailing is not lost, as fibreglass boats and the desire to go fast have almost made traditional sailing disappear.
You are committed to the neighbourhood where you live, El Molinar. How important is it to have an involved citizenry so that initiatives such as the Al Molinar, Port Petit campaign are successful?
Yes, I am committed to the conservation of what is ours, in this case the port where I was born. My family had their fishing boat moored in the port and getting involved in this campaign brought back many memories. It was a struggle for almost the whole neighbourhood and part of the citizens of the island. You don't always win a fight against Big Industry but now everyone can enjoy this public space.
Quick quiz for sea lovers

A book: Longitude, the true story of a lone genius who solved the greatest scientific problem of his time, by Dava Sobel.
An image that evokes the Balearics for you: The turquoise waters of Cape Salines.
A marine species: Aphia minuta.
A person or organisation of reference: My father.
A beach: El Molinar beach.
A phrase that defines you: "The sea and me."
Optimist, realist or pessimist? 100% optimist.