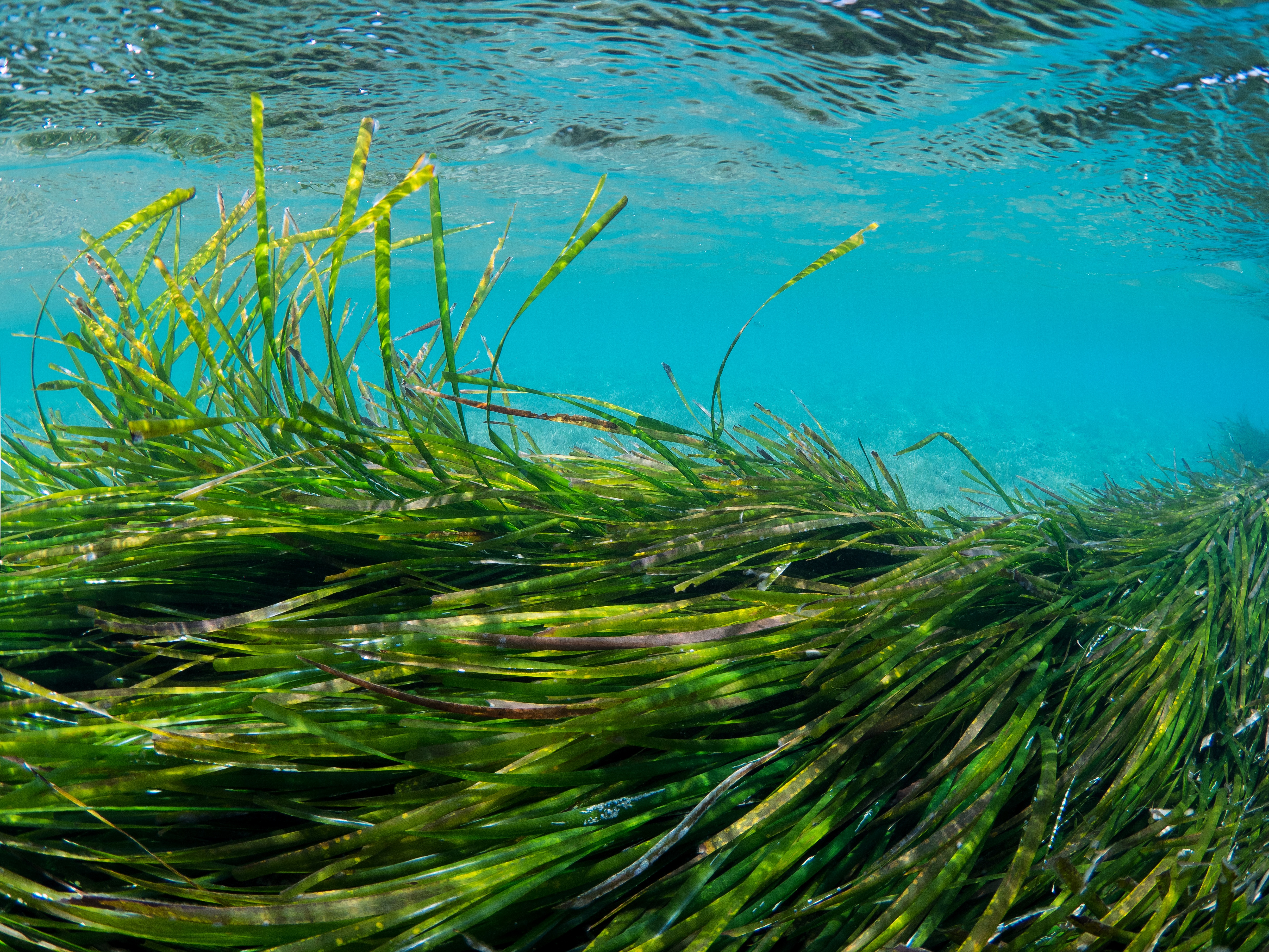 The seagrass Posidonia is in danger in Portocolom
Raquel Vaquer-Sunyer, Balearic Sea Report coordinator.
Article published in ARA Balears 04/09/2020
When I was a child I used to swim in s'Arenal Gran or in es Babo, in Portocolom. I loved the sea so much that I ended up studying marine sciences and dedicating my live investigating and conserving it. But when I was little, I perceived the seagrass Posidonia as dark spots since I could not see the seabottom, and that scared me. Yes, I confess: Posidonia made me uneasy, although this marine plant has lots of benefits for both the environment and us. At that time, I was unaware of its importance in beach formation and water transparency, as a refuge for a large number of species and a source of biodiversity, as protection against erosion. But I still had no idea about its role in oxygenating water or capturing carbon, helping to alleviate global warming. I just knew I didn't see what was there, it was black, and ignorance led me to fear.

Now, that meadow is getting smaller and smaller. In Portocolom, there are numerous pressures affecting this ancient plant that, heroically, returned back to inhabit the seas after adapting to terrestrial life. Some of these pressures are derived from the fact that Portocolom is a semi-enclosed bay, with little exchange with the open sea. For many years, sewers have been leaking into the sea. Many houses are still unconnected to sewer network, and their septic tanks are pouring dirty water into the bay. This, coupled with the low rate of waterof renewal in Portocolom Bay leads to nutrient and organic matter accumulation in the bay, causing the growth of microscopic algae, turning the water green (phenomenon known as eutrophication).

Climate change also endangers this plant. High temperatures might cause its vanish. Waters warmer than 28 ºC significantly increase posidonia shoots mortality.Some models have forecasted a functional extinction of the seagrass by the middle of this century.
Another pressure that affects Posidonia is the uncontrolled anchoring of boats.Every summer, hundreds of boats, yachts, sailing ships and catamarans drop anchors on this threatened meadow. These anchors and chains are fragmenting the bottom, pulling to pieces this plant that has been able to survive natual environmental changes for thousands of years. An anchor of a 15 meters long boat can torn off 165 shoots of posidonia creating a patch. The meadow would need 5 years in optimal conditions to recolonize this patch. But, the same summer and the next one more boats arrive – hence more anchors creating more patches. And the meadow cannot recover. It is getting smaller and smaller. And the last meadow of Portocolom is fading away.
For years, many organizations have been trying to protect this last patch of posidonia.The simplest and cheapest solution is to moor buoys that delimit the posidonia to ensure that the boats do not anchor over it. It is also important to regulate discharges into the bay and ensure that all homes are connected to the sewer network, and that it does not leak into the bay. Separating stormwater from urban sewage would also help reduce wastewater runoff.

This year it is intended to approve the management plan for the SCI - Site of Community Importance (protection figure of the Natura 2000 Network) - of Portocolom. This plan will be the instrument for the management of the protected area, and will have to solve, among other issues, the problem of uncontrolled anchoring on the last patch of Posidonia in the bay. It will be a very important tool to guarantee that the bay and the diverse habitats it houses are properly managed and its conservation is assured.

Every day that passes we have less posidonia. It is urgent to moor buoys to delimit areas where anchoring is forbiden. We can't afford to lose any more seagrass, or our bay will seriously worsen its water quality and lose much of its charm. It is urgent that the competent authorities – Ministry of the Environment, Maritime Captaincy, IB Ports, Coasts and Marine Environment (depending on the Ministry for Ecological Transition and Demographic Challenge) – install buoys that clearly delimit where anchoring is prohibited.

But protecting posidonia is also in your hands. If you're a sailor, don't anchor over it!
Raquel Vaquer-Sunyer, coordinator Balearic Sea Report.