News
Schoolchildren will gather information on the presence of microplastics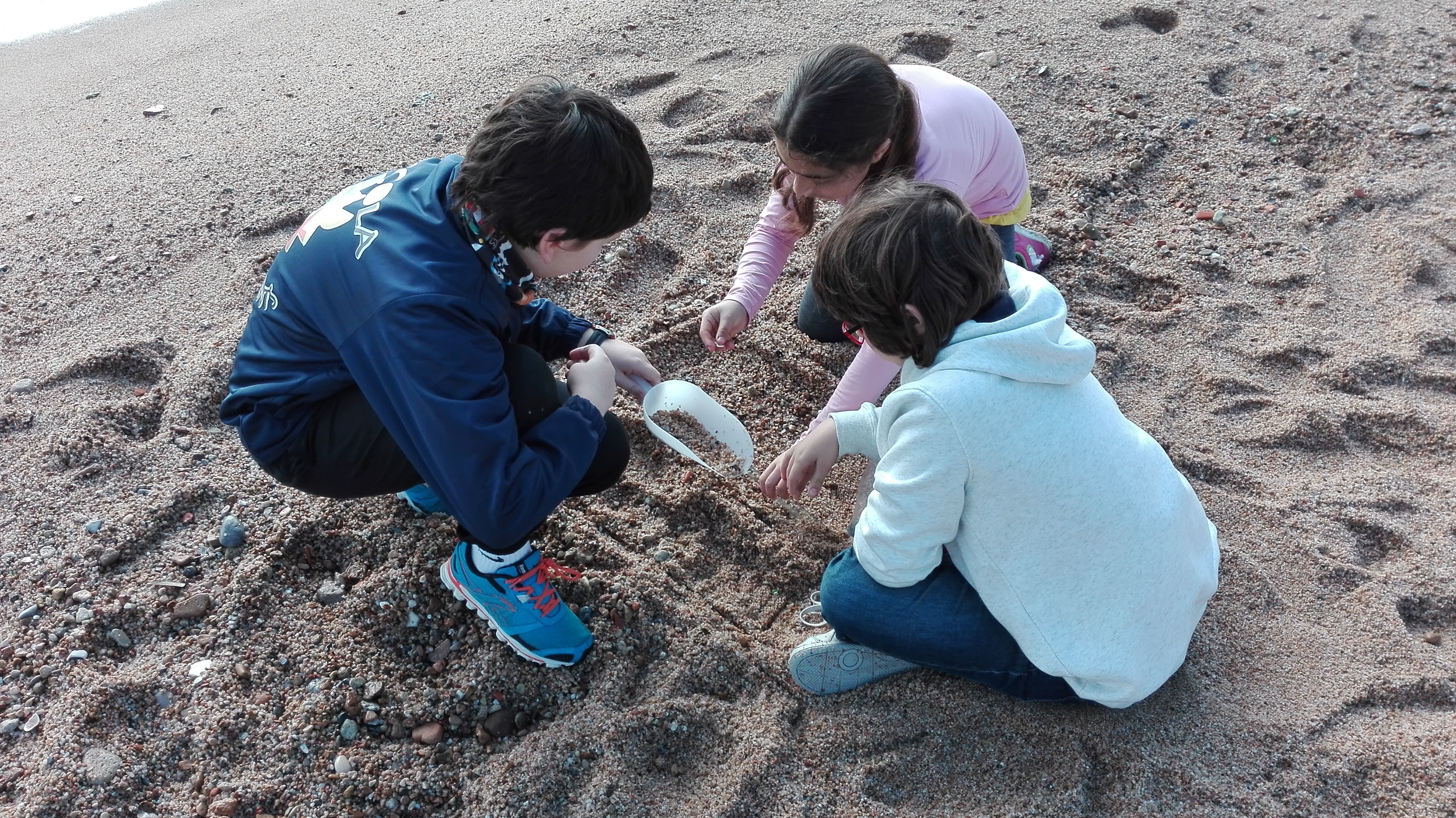 Schoolchildren will gather information on the presence of microplastics on Balearic beaches
This January, GOB Mallorca and GOB Menorca will carry out sample tests on beaches together with 3 educational institutions. Both associations will be working alongside the Observadors del Mar (Sea Watchers) community via the Microplastic Watchers project. GEN-GOB, in the Pitiusic Islands, has been taking part in this enterprise since 2017.
Microplastic Watchers

is a citizen science project integrated with the

Observadors del Mar

(

Sea Watchers

) platform. Its objective is to collect data of the presence and abundance of micro and mesoplastics in the sea, so as to work on the

diagnosis

and

awareness

of this global issue. Participants compile data monthly on specific beaches, following a scientific protocol of sampling and classifying plastics of different types and sizes.
Since 2017, GEN-GOB has coordinated the monitoring of the project in 5 beaches of Eivissa and Formentera. It has involved educational institutions, youth clubs and other groups in the plan.
Now, in 2021, with the support of the Sa Nostra Caixa de Balears Foundation and Bankia – through its Call for the Environment and Sustainable Development – both sections of GOB in Menorca and Mallorca will begin the sampling process, with the participation of 3 educational institutions: CEIP S'Hort des Fassers in Alcúdia, Mallorca; and Margalida Florit and Mestre Duran in Menorca.
Boys and girls will monitor what is happening within the beaches of Son Bou, Algaiarens and the Alcúdia beach, providing monthly sampling and analysis of the sand from each of these beaches.
Victoria Llabrés, of GOB Mallorca: "Plastic sea pollution is a fact that is becoming increasingly alarming. In the circumstances we, at GOB Mallorca, consider it urgent to work towards change. This is why we are collaborating with the Observadors del Mar community. The Microplastic Watchers project will allow us to work via environmental education and citizen science, so as to achieve this much needed social and ecological transformation."

Adrià Pons, of GOB Menorca: "For our health and the health of the planet, it is fundamental to include environmental commitment in the educational process. This project provides students with the opportunity of working on current top-priority aspects: environmental awareness and activism, working within a network, applied scientific methodology, direct contact with nature and a reflection on our consumer system. We are hopeful that this project, which has just commenced in Menorca, will continue well after the end of this school year."
The incorporation of the analysis of these beaches will supply new comparative data in relation to the accumulation of microplastics on the beaches of all the islands. It will enable us to answer key questions, such as whether there are variations in the concentration of micro and mesoplastics between beaches and islands; what type of plastic accumulates most; or, whether changes occur at different times of the year.
Luís F. Ruiz-Orejón, who runs the Microplastic Watchers project in the Sea Observers organisation: "The data which is generated will be an incalculable resource for understanding the distribution of plastic waste on the coast. The participation of new centres is a step forward to bring science closer to society and contribute to critical thought based on scientific evidence".
Students do not only contribute to the research, but they also learn and experience science as a real, living process. The project also creates a social conscience and an awareness of the global issue of plastics and how these affect the marine environment of the Balearics.
Observadors del Mar and the Marilles Foundation have been working together since 2020 to strengthen and enhance the marine citizen science programme in the Balearic Islands. In just one year, collaborations have increased on all the islands. There are already 11 entities taking part, comprising diving centres, nautical clubs and non-profit organisations.
Microplastic Watchers has secured the participation of 38 secondary schools and 9 primary schools, with a total of 3,126 students monitoring 23 beaches in Barcelona, Girona, Tarragona and the Balearics.
Observadors del Mar is a top marine citizen science platform in the Balearic Islands. Since its foundation in 2012, it has involved thousands of people in marine research. It has created a space where many sectors converge, promoting a dialogue between society and scientists about environmental and conservation sea-related issues. They are currently also collaborating with LIFE INTEMARES, a project promoted by the Biodiversity Foundation of the Ministry for Ecological Transition and Demographic Challenge.
GOB is a non-profit organisation whose objective it is to achieve a stable and definitive balance between human activity and the conservation of nature, thus attaining ecological and social sustainability.

For more information

Gemma Agell Llobet - Observadors del Mar - gemma@ceab.csic.es - 678612873

Victoria Llabrés Noguera - GOB Mallorca - educam@gobmallorca.com - 971496060 / 627849811

Adrià Pons Pons - GOB Menorca – educamb@gobmenorca.com – 971350762
List of current Observadors del Mar marine citizen science projects:
Coral Alert!

Alien fishes

Jellyfish alert

Decapod crustaceans

Mediterranean Fishes

Seabirds

Invasive Algae

Seagrass in Reproduction

Syngathids

Pen Shells

Hidden deserts

Microplastic watchers

Marine Litter

Climate fish

Sharks and Rays