Albatros Diving is a diving centre located 100 m from the port of Cala Bona and only 5 m from La Laguna, a natural pool ideal for first diving experiences. It is a PADI 5-star Gold Palm Resort, the highest quality rating awarded to dive centres. We talked to Gigi Torras, co-owner, instructor, and director of the centre, born in Barcelona, and raised around the world until she settled in Mallorca.
What is your life trajectory? And your relationship with the sea?
My professional career has been quite varied, but it has always been closely related to the sea. I am a marine biologist by training and worked on several research projects while living in Australia. I worked a lot with corals and their reproduction, as well as with fish surveys, reef-cover monitoring, and shark monitoring. I was a lab technician at James Cook University in Australia, as well as a lab-trainee teacher and tutor. At the same time, I worked as a dive master on a live-aboard vessel and as a safety diver at the military base in Townsville for HUET (Helicopter Underwater Escape Training). After four and a half years in Australia, I moved to Koh Lanta, Thailand, where I completed my Dive Instructor course. At the end of the season, I came to Mallorca to work at Albatros Diving, a centre that I later bought with my partners and which we happily run now.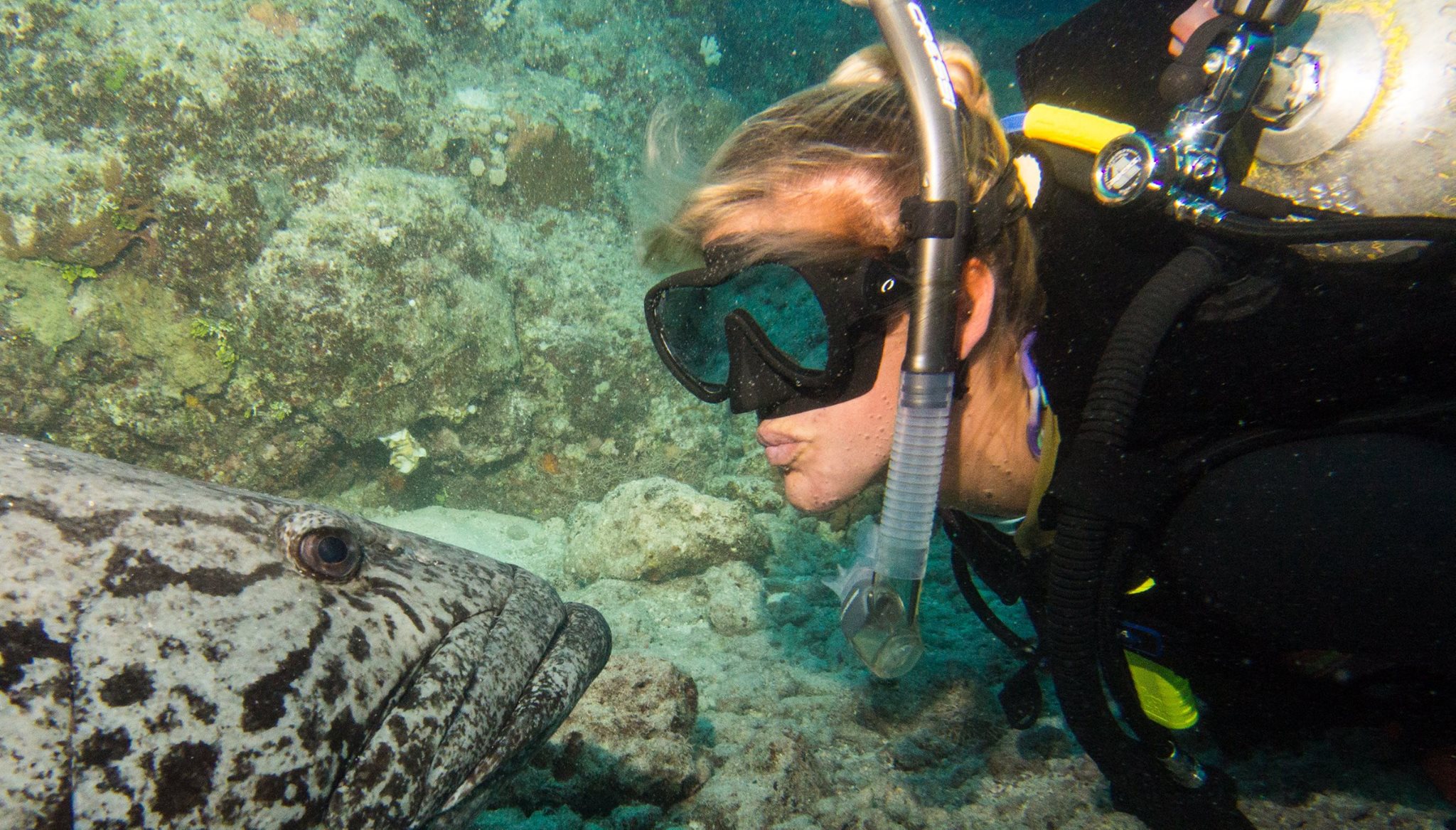 What is Albatros Diving and what is your philosophy?
Albatros Diving is more than just a diving centre. For us, the most important thing is that everyone who comes here feels at home. We love to see how people come back year after year and become part of our family. When we bought Albatros Diving, we wanted it to become a place where every diver and non-diver could feel comfortable and continue to learn and grow. One of my big goals was, and still is, to make Albatros Diving not only a dive centre, but also a base to develop research projects, a platform for scientific communication, and a place where new generations could come and find their passion for the sea and follow it.
You are one of the Sentinel Observatories of Observadores del Mar (Observers of the Sea). Why do you think it is important for dive centres to participate in marine citizen science?
We decided to become a Sentinel Observatory and participate in the big project that is Observadores del Mar because, in a way, we are the ones who are in the sea every day; we should be the voice of the sea. It is our responsibility to make sure that the people who come here understand what they are seeing, what they are enjoying. They need to know about the threats to our seas and what they can do to help. Citizen science is essential for the protection of our environment because, sadly, there are not enough scientists to collect data on what is happening in our seas and who better than the people who enjoy them daily?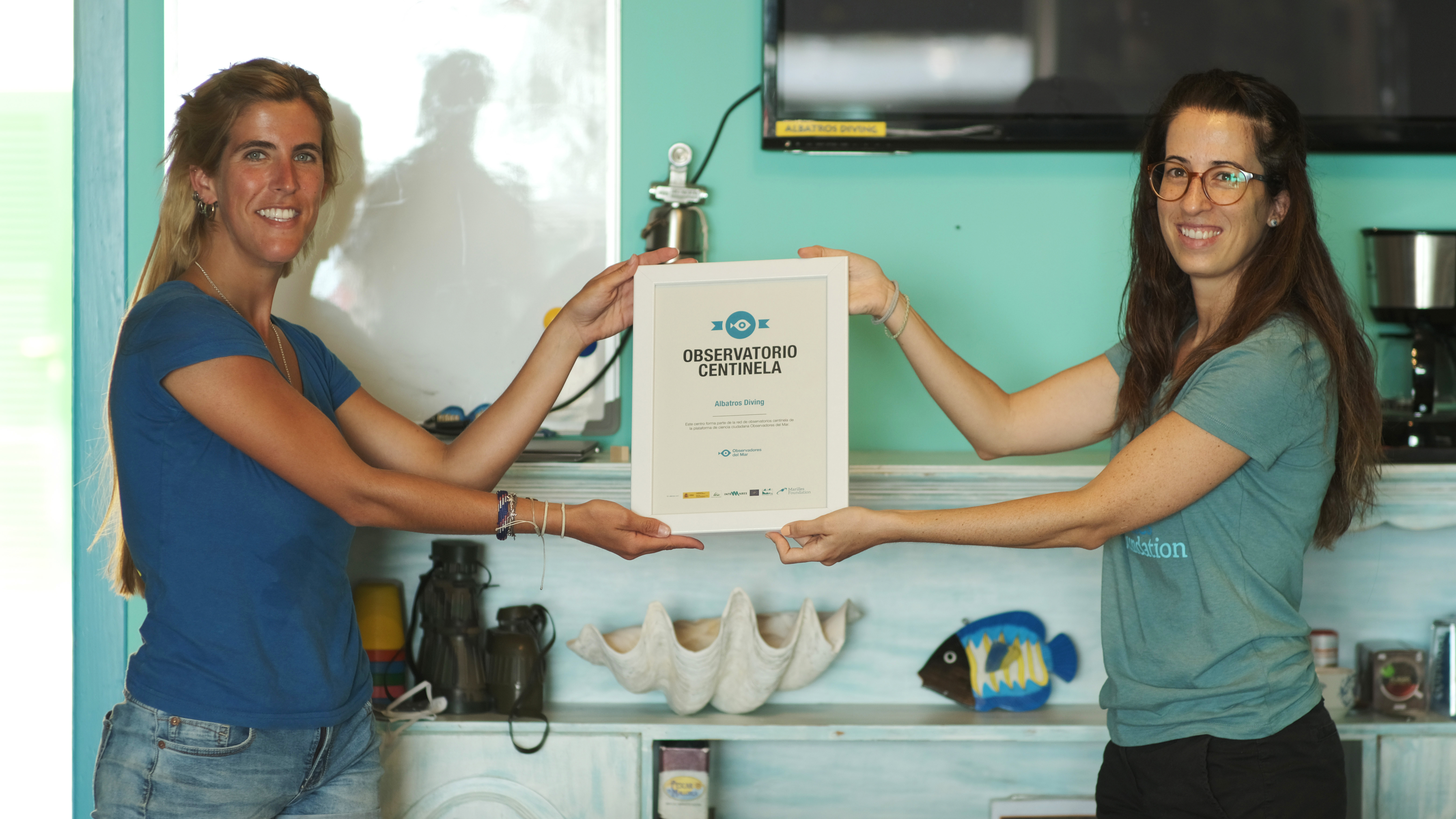 In 2020, Albatros Diving joined the Observadores del Mar network. Sandra Espeja, marine citizen science coordinator in the Balearic Islands, together with Gigi Torras. Photo: Marilles Foundation.
What does Albatros Diving contribute to better connect people to the sea?
At Albatros, we try to make every day an opportunity for people to learn from what they have seen during their dives. We spend a lot of time filling in logbooks and talking about what we have seen. During the dives, we highlight the importance of the relationships between the different organisms, and of Posidonia oceanica. During the Try Dives and Open Water Diver courses, we emphasise the importance of taking care of the environment and the different organisms we encounter while diving. This is how people learn to appreciate the marine environment in a different way. We never miss the opportunity to clean up the seabed; whenever we find rubbish, we make sure we pick it up so that our divers start doing the same.
What priority action should the administration promote in favour of marine conservation?
This is a rather complicated question, as often, despite the efforts of the administration, if the population does not commit to being part of the action, change will not be seen. Education is one of the keys to creating a change that can last over time. If we want to see a change in favour of marine conservation, the administration should invest funds in the education of future generations; incorporate environmental conservation classes, whether marine or terrestrial, as part of the school curriculum; and get local councils to promote coastal clean-ups. We need to make conserving the marine environment part of the culture of future generations; it needs to become the norm, not the exception.
How did your love for the sea begin?
You could say that seawater runs through my veins. I am lucky enough to come from a family that has always been closely linked to the sea. On my mother's side, she and both my grandparents have been sailing all their lives, taking part in sailing competitions and going to the beach every sunny day. On my father's side, they all work in some trade related to the sea. Since I was a little girl, I have spent every weekend at the beach, swimming in the natural pools, looking for shells, and watching crabs. I don't know how to live without the sea. If I spend too many days away from it, I feel that a part of me dries up, shuts down. I remember the first time I could breathe under the sea, during my Open Water course. It was as if all my dreams had come true. Everything made sense. I knew I had to look for a profession that would keep me near or in the sea always.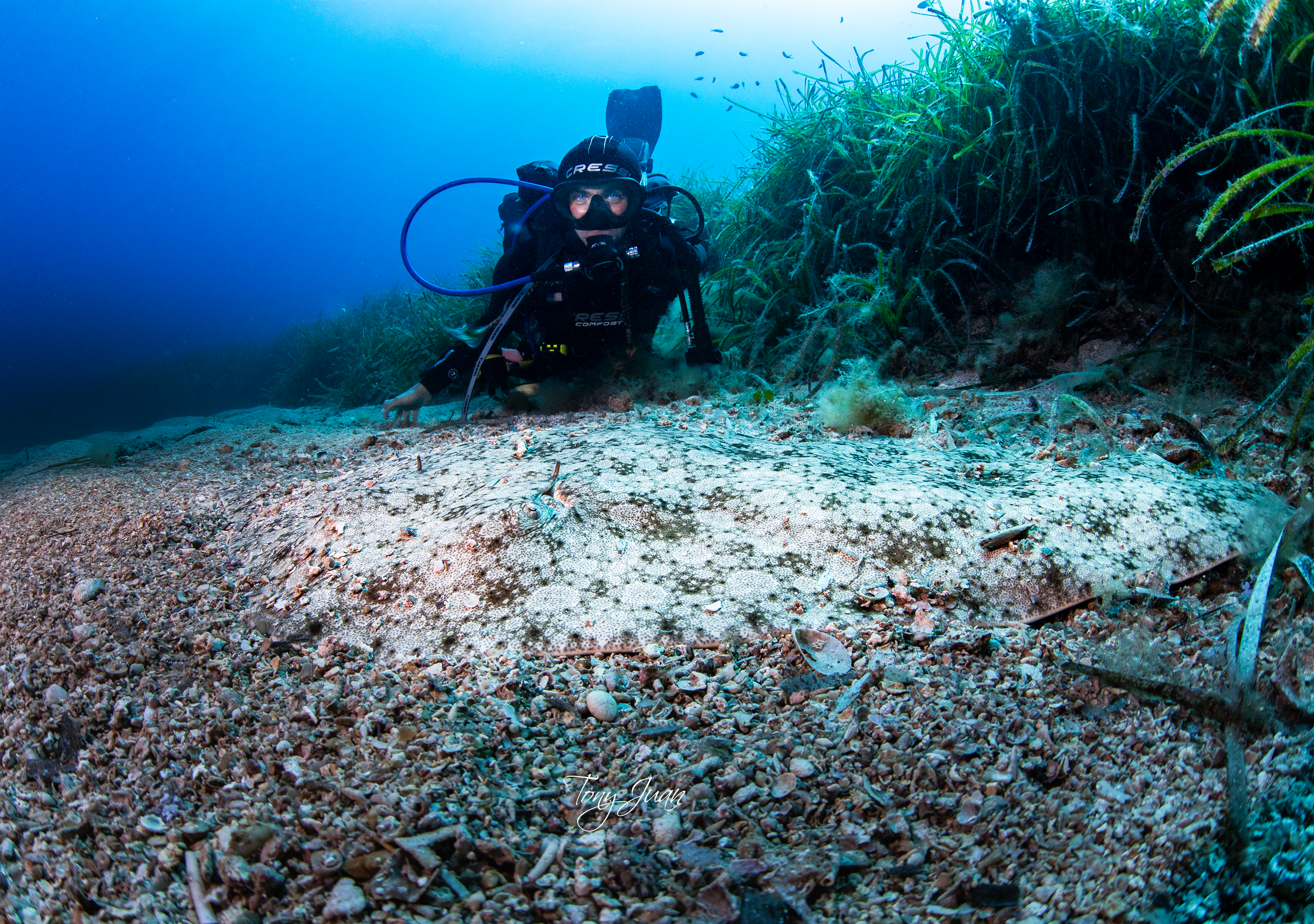 And finally, tell us about the association you are involved in, Daughters of the Deep.
In this association, we try to reduce the gender gap in the world of work related to the sea. We raise funds to provide opportunities for girls around the world who don't have the resources to pursue a career in the sea, whether as diving instructors, boat skippers, or in marine conservation. In turn, we working on a Sisters of the Sea platform to create a network of women working in marine-related professions to serve as a reference for all those women and girls around the world who want to follow their passion for the sea.
Quick quiz for sea lovers

A book: Evolution by Calpurnia Tate.
An image that evokes the Balearic Islands: Posidonia oceanica seen against the light, with the sun's rays entering the crystalline waters highlighting its different shades of green.
A marine species: Acropora tenuis, a species of coral that I have researched a lot.
A person or organisation of reference: Sylvia Earl.
A beach: Espalmador, Formentera.
A phrase that defines you: I prefer to regret the things I have done rather than the things I haven't done.
Optimistic, realistic, or pessimistic? 100% optimistic.