Sea temperatures rising three times more than in other seas, invasions from exotic species, fish stocks at an all-time low level, mobile species in dire straits, biodiversity collapse…one of the world's hotspot for biodiversity, the Mediterranean is in danger, but solutions exist.
In mid June, in Palma de Mallorca, Barcelona, and Roses, marine protected area (MPA) practitioners and policymakers discussed the most important measures that must be put in place to empower MPA networks and their stakeholders to tackle climate change consequences and biodiversity conservation in the Mediterranean.
The week was dedicated to sharing the results of two important European Interreg MED projects: MPA NETWORKS and MPA Engage. These two projects worked on strengthening networks of practitioners dedicated to improving our adaptation to climate change, the management of small-scale fisheries, the conservation of mobile species, the effectiveness of management, and the sustainable financing of MPAs.
The objectives of the week's event were two-fold: ensure the technical and political uptake of the solutions identified in the two projects at a Mediterranean level and discuss key recommendations for decision-makers concerned with climate change and biodiversity conservation in the Mediterranean.

In Palma de Mallorca, Mediterranean MPA practitioners discussed recommendations that policy makers should urgently act on to better cope with climate change and biodiversity conservation in the Mediterranean. Photo: PereJuan Oliver.
The hybrid technical event in Palma de Mallorca on 14 and 15 June, gathered over 100 MPA practitioners from 18 countries around the Mediterranean. It was structured around four roundtables during which the results of the two projects, the lessons learned, and recommendations were discussed and practitioners shared their insights on the way forward.
Antoni Font, coordinator of Marilles actions in Interreg MPA Networks, who hosted and co-organised the Palma event pointed out: "As a partner of the MPA NETWORKS project, we have contributed to demonstrating that investing in MPAs pays off. The sea gives us everything, but we invest very little in its protection. These final events have highlighted that we need to continue to act with conviction to bring everybody onboard to improve the effectiveness of MPAs."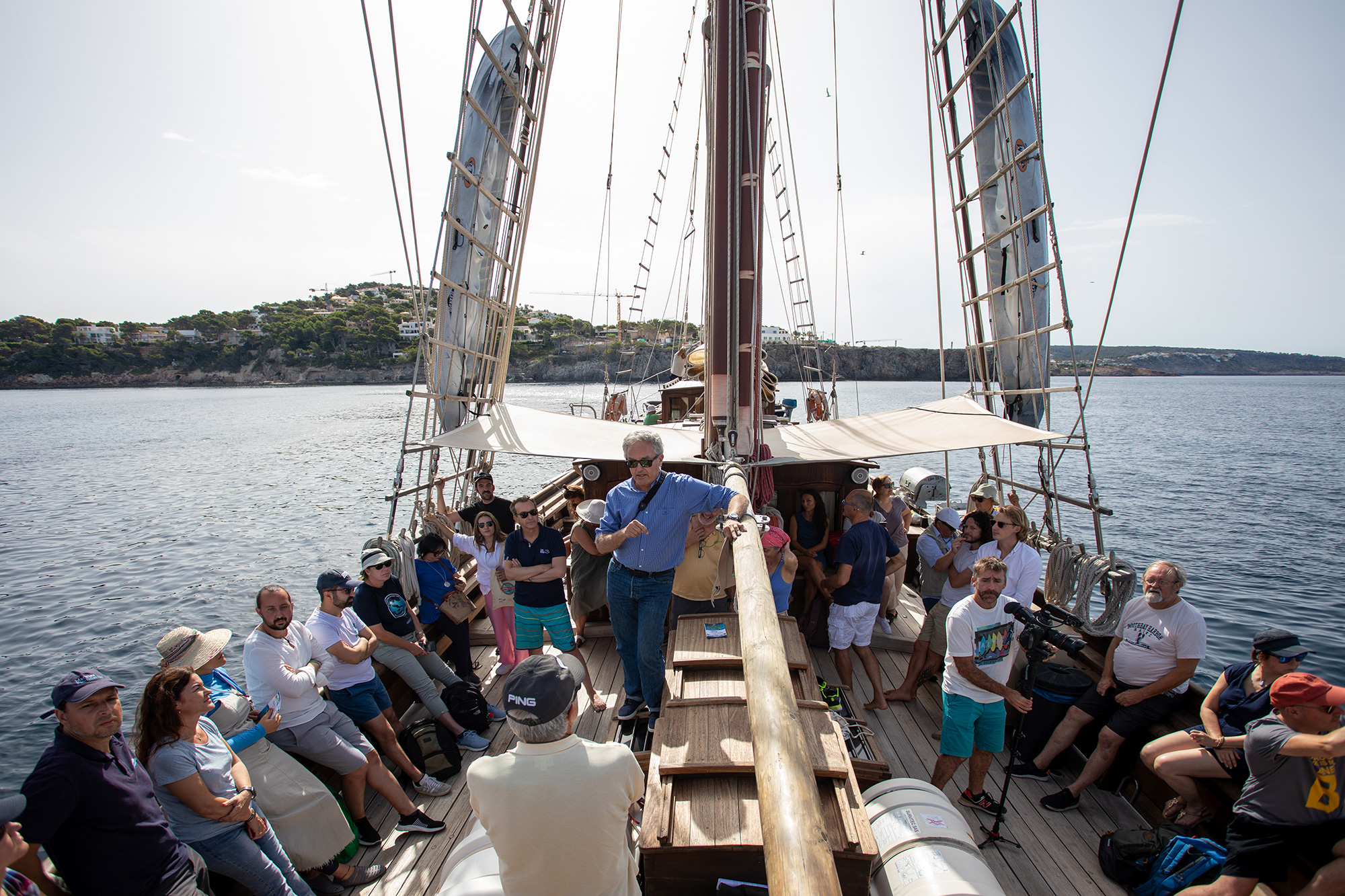 MPA managers during the field trip to the El Toro-Malgrats Marine Reserves on 14 June 2022..
The policy event in Barcelona at the Institut de Ciències del Mar-CSIC on 16 June was an opportunity to present and further discuss the recommendations that stemmed from the Palma exchanges with policymakers. After the opening session, where Ambassador Alvaro Albacete of the Union for the Mediterranean recalled the challenges our region is facing, the debate was organised in two roundtables chaired by Asma Kheriji from SPA/RAC (Specially Protected Areas Regional Activity Centre - UNEP-MAP) and Alessandra Sensi from the Union for the Mediterranean. Participating in the event were representatives from the governments of Catalunya and Spain, Croatia, Albania, Italy, Egypt, Algeria, Turkey as well as a number of networks around Europe, the Conference of Peripheral Maritime Regions (CRPM); Medcities, the network of Mediterranean Cities; the Joint Interreg-Med Secretariat; and the Circle of Mediterranean Parliamentarians for Sustainable Development (COMPSUD). Prominent marine conservation donors such as the French Facility for Global Environment, the Pew Bertarelli Ocean Legacy, and MedFund, the Mediterranean conservation trust fund, also shared their support during the event.
To support MPAs in their crucial role to safeguard our marine environment, and to reach the international and regional ambitions of 30% of marine protection by 2030, efforts must be boosted on several complementary fronts:
Collaborative governance and co-management in the Mediterranean Sea must be encouraged to ensure that all stakeholders contribute to the sound management of our marine environment.
As a pillar of Mediterranean culture for centuries, small-scale fishers must participate in MPA management and be supported with adequate measures to curb illegal activities or destructive practices.
As sentinel sites in an ocean severely impacted by climate change, MPAs must be empowered to continue their contribution to marine resilience through improved and harmonised monitoring as well

as with the

elaboration of science-based climate change adaptation and mitigation action plans.
To ensure that the key role of MPAs to safeguard our marine environment is recognised, the assessment of the economic value of marine conservation must be continued throughout the network of Mediterranean MPAs and appropriate sustainable financing mechanisms must be developed.
Because the conservation of our marine environment is everyone's business, networking and marine cooperation at all levels and between all marine practitioners, from MPA managers, municipalities, regions, state services, scientists, and NGOs, to economic actors and prosecutors, must be encouraged and supported.
"We live in a time of global emergency and nature is our answer. We need to join forces," stressed Purificació Canals President of MedPAN. Joachim Garrabou from CSIC added: "In an ocean of uncertainties, MPAs are our islands of certainty. Let's continue working together so that they are empowered to serve their purpose and deliver the results that will benefit nature and sustain our livelihoods."
These key recommendations for policymakers, emanating from a region already recognised for its dynamism on marine conservation issues, will be brought to the UN Ocean Conference, one of the most important events on the international ocean agenda, starting on 27 June in Lisbon, Portugal.
Contact and more information
Antoni Font, Marilles-MPA Networks - 670658599 tonifontg@gmail.com
Joaquim Garrabou, researcher ICM-CSIC MPA Engage-606 00 73 21 garrabou@icm.csic.es
Ernesto Azzurro, researcher CNR MPA Engage - eazzurr@gmail.com
Carole Martínez, in charge of the MPA NETWORKS project - carole.martinez@medpan.org