Restoring shallow water bays
The shallow water bays of the Balearic Islands are home to a wealth of habitats that have been severely degraded by multiple pressures –poor water quality, shipping pressure and coastal developments. Their emblematic species, such as seahorses and pipefish, have declined massively.
Balearics still hosts some of the best-preserved shallow water bays in the Balearic Islands and in the Mediterranean. We must act now to ensure the protection of these valuable and biodiversity rich spaces.
One of Marilles' strategic objectives is the restoration, conservation and regeneration of vulnerable species and habitats. For this reason, we have launched a project at Balearic level to restore some shallow mudflats such as those of Pollença, Sóller, Talamanca, Sant Antoni de Portmany and Estanc des Peix.
First phase in Menorca
Thanks to the support of the Swiss foundation Fondation Primat, this 2022 we will start working with local scientists from OBSAM –Observatori Socioambiental de Menorca– in some bays of Menorca such as the harbour of Maó, Fornells, Addaia, Algaiarens and Sa Nitja, with the aim to replicate and amplify the impact to other places in the Balearic Islands and beyond.
The duration of the project is 3 years. This first phase will consist of defining the state of the bays, determining their optimum ecological potential and designing a programme of measures to help us improve them. This will include the regulation of pressures, but also proactive restoration activities such as the replanting of Cystoseira forests and other marine plants, as well as the possible reintroduction of some species such as seahorses and guitarfish.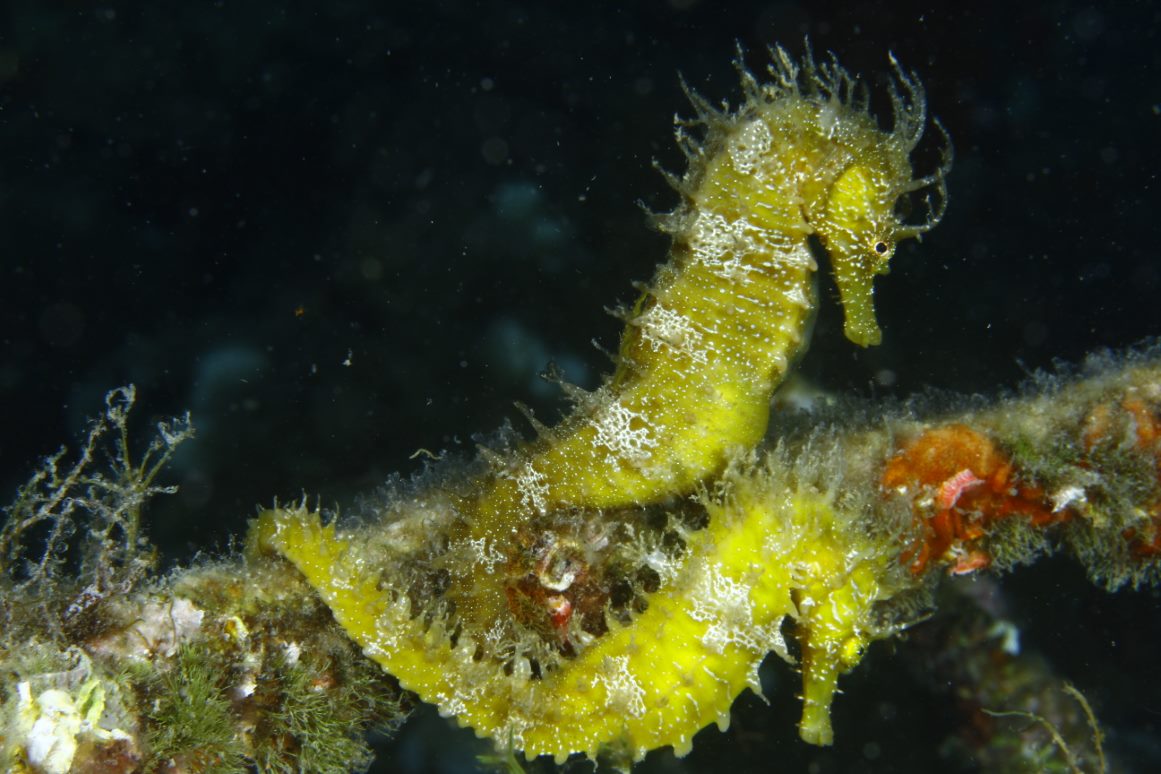 Seahorses (Hippocampus hippocampus). Photo: Toni Menor.
Although this picture and trends are applicable to all islands, Menorca stands out as the island which has managed to contain growth and coastal development ensuring the preservation and higher levels of land and coastal protection compared to neighbouring islands. This is what has earned Menorca its Biosphere Unesco status. Although it has serious challenges to address with regards to its fisheries management and effectiveness of its MPAs, it is the island which has the healthiest shallow water bays in comparison with other islands. Yet they have suffered degradation and are at risk of increasing pressure.
Menorcan context
Research studies show that most of these bays and the rich biodiversity they once hosted have suffered different degrees of degradation due to anchoring, excess of visitors, pollution (wastewater, agriculture), water turbidity from boats, ports, urbanisation, climate change, and invasive species.
Most of these locations fall under some form of legal protection but few have effective management plans in place. Reducing and managing these pressures throughout the development of ambitious management plans is a key component of this project and an essential key step to succeed in restoring the biodiversity in each one of the locations.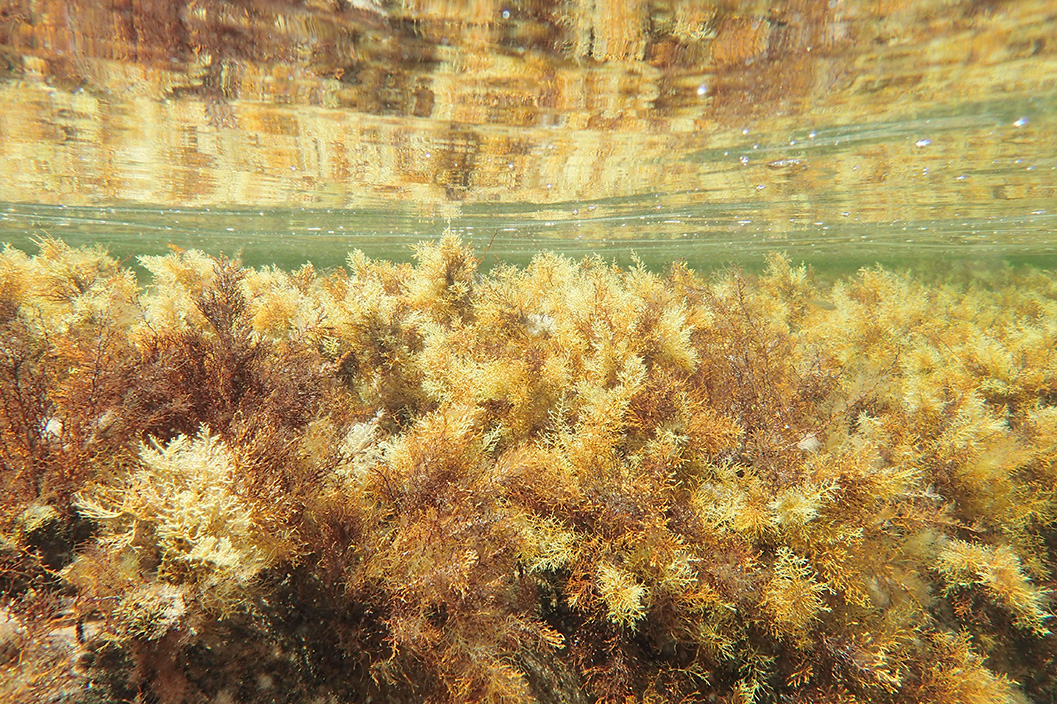 Cystoseira crinita in Calesmorts, Menorca. Photo: David Carreras, OBSAM.
Seagrass meadows and macroalgal Cystoseira forests have been in regression over the past decades. The loss of these habitat-forming impacts ecosystem functioning, affecting local productivity, dispersal of species and biodiversity. Once Cystoseira forests disappear from one location it is very difficult to recolonise the site naturally, requiring active restoration measures to be implemented. Protected species like seahorses and sharks have rapidly declined or become regionally extinct, such as the guitarfish and the angelshark which were last sighted in 2015 and early 2000 respectively.
The results of a study funded by Marilles Foundation and taken forward by OBSAM assessed the water quality of 100 beaches and coves using the presence of macroalgal Cysotseira as an environmental indicator. They reveal that water quality impact has been higher in southern calas and beaches, whilst the north seems to have not been so badly affected.