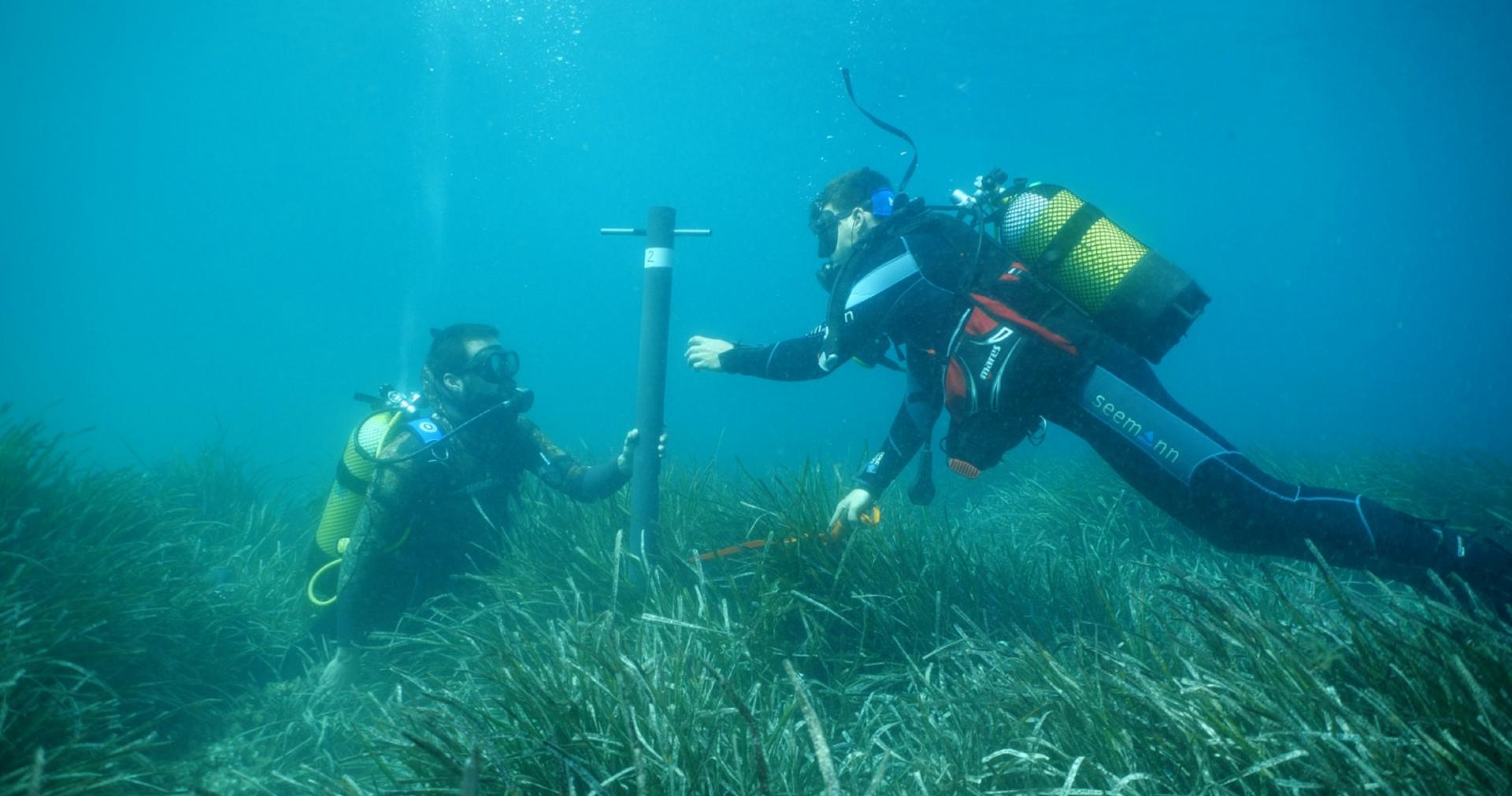 Posidonia dating in Calvià
In order to estimate the age and the amount of carbon stored by Posidonia meadows, two weeks ago the Marilles Foundation invited a team of experienced researchers, led by Dr. Miguel Angel Mateo from the Blanes Centre for Advanced Studies (CEAB) on the Costa Brava, to sample two Posidonia meadows in the coast of Calvia - in Illetes and the S'Oratori beach in Portals Nous – an activity possible thanks to the support of TrueWorld who lent us the solar-powered boat Stenella; as well as support from the Conselleria de Medi Ambient, Puerto Portals and the municipality of Calvia.
Previous research studies have shown that the 550 km2 of Posidonia meadows in the Balearic Islands absorb about 8 % of the total emissions of the Islands. Although they have been shown to be vital carbon sinks, they are currently not included in

national carbon inventories

.
In both locations, researchers extracted PVC tubes 1,5 meters long containing the plant and sediment. The sediment core is like a book, and each slice a different page, telling us the history over past centuries. Researchers will be able to determine when the first pollutants appeared, and when the first microplastic started to accumulate in the sediments. They also reveal how old these habitats are. Current estimates suggest meadows sampled are well over 1000 years.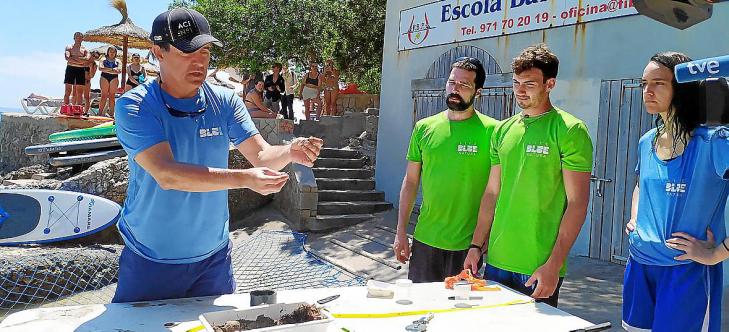 The head of the CSIC study, Miguel Ángel Mateo, working with a sample. Photo: Jaime Mora.
The carbon stored in marine ecosystems is known as blue carbon. The main components are marine plants, mangroves and wetlands. These ecosystems sequester and accumulate large amounts of carbon, both in the plants themselves and in the sediments beneath them. For example, more than 95% of the carbon in seagrass meadows is stored in soils. Posidonia oceanica seagrass meadows are one of the most efficient ecosystems at sequestering carbon that has been buried in the sediments beneath them for centuries and millennia. Protecting these habitats prevents the release of all this carbon into the sea and eventually into the atmosphere. They are therefore an essential ally in the fight against climate change.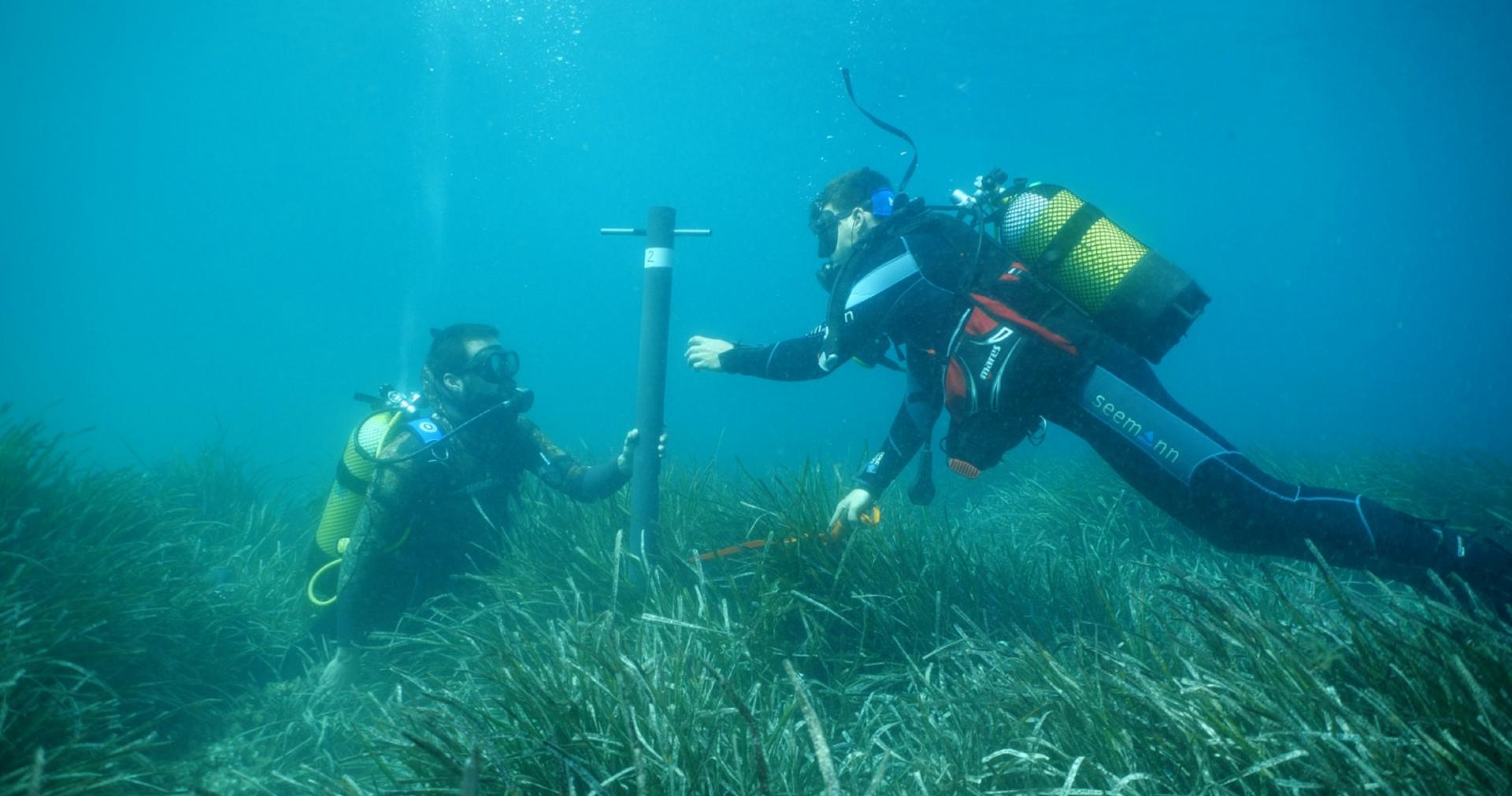 Two researchers take samples from a sediment core in a posidonia meadow.