5 posters to discover the marine life of the Balearic Islands
The marine fauna and flora of our seas are still largely unknown to a large part of the population. This spring we have made available to the public, free of charge, five posters with illustrations by the naturalist cartoonist Toni Llobet to help identify common species of the Balearic Sea. Thanks to the collaboration with Grup Serra, the posters have been distributed weekly throughout the islands with Es Diari (Menorca), Ultima Hora (Mallorca) and Periódico de Ibiza y Formentera.
The species have been classified into five posters: coastal fish, seabirds, pelagic and deep-sea fish, molluscs and sharks and rays. We hope to expand the series with more posters in 2022.
For the selection of species we have counted on the participation of experts from the Societat d'Història Natural de Balears. The plates include illustrations of each species in exceptional detail and accompanied by information about the animal.
Toni Llobet, naturalist illustrator: "Apart from the elaboration of the illustrations, which is a long and laborious process, the main challenges in a work like this are twofold. On the one hand, the technical-scientific one: how to group the species in different posters. And once this has been done, to make a representative selection of species. In this whole process, the participation of marine fauna experts is crucial.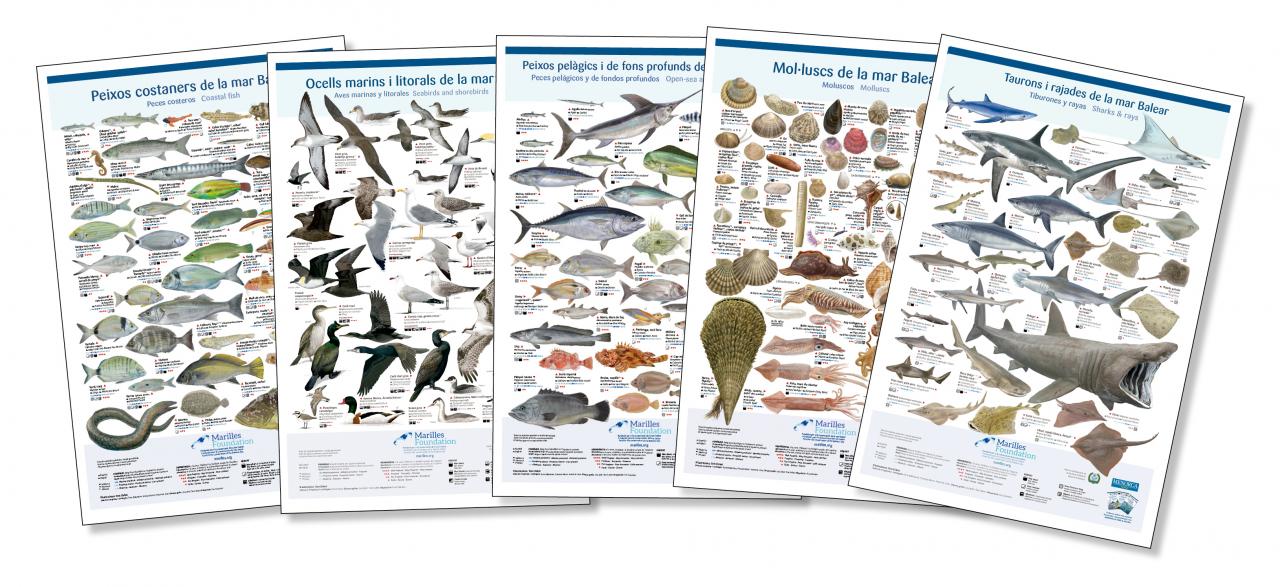 Mini-guides of marine fauna and flora
At Marilles we worked with the naturalist illustrator Toni Llobet and the publishing house Cossetània to produce a series of ten mini-guides on the marine fauna and flora of the Balearic Islands to raise awareness of the rich natural heritage of the Balearic Sea. A resource designed to encourage everyone to dive into the water, discover marine life and actively participate in its preservation.
The first two titles in the series were published in 2020: Coastal fish and Pelagic and deep-sea fish. We purchased 12,000 copies, which were distributed to educational centres and organisations that promote marine environmental education. They are also on sale in bookshops in the Balearic Islands, so that the public can discover and recognise the fish, invertebrates and algae that live in the Balearic Sea. Our foundation does not receive any direct profit from the sale of these guides.